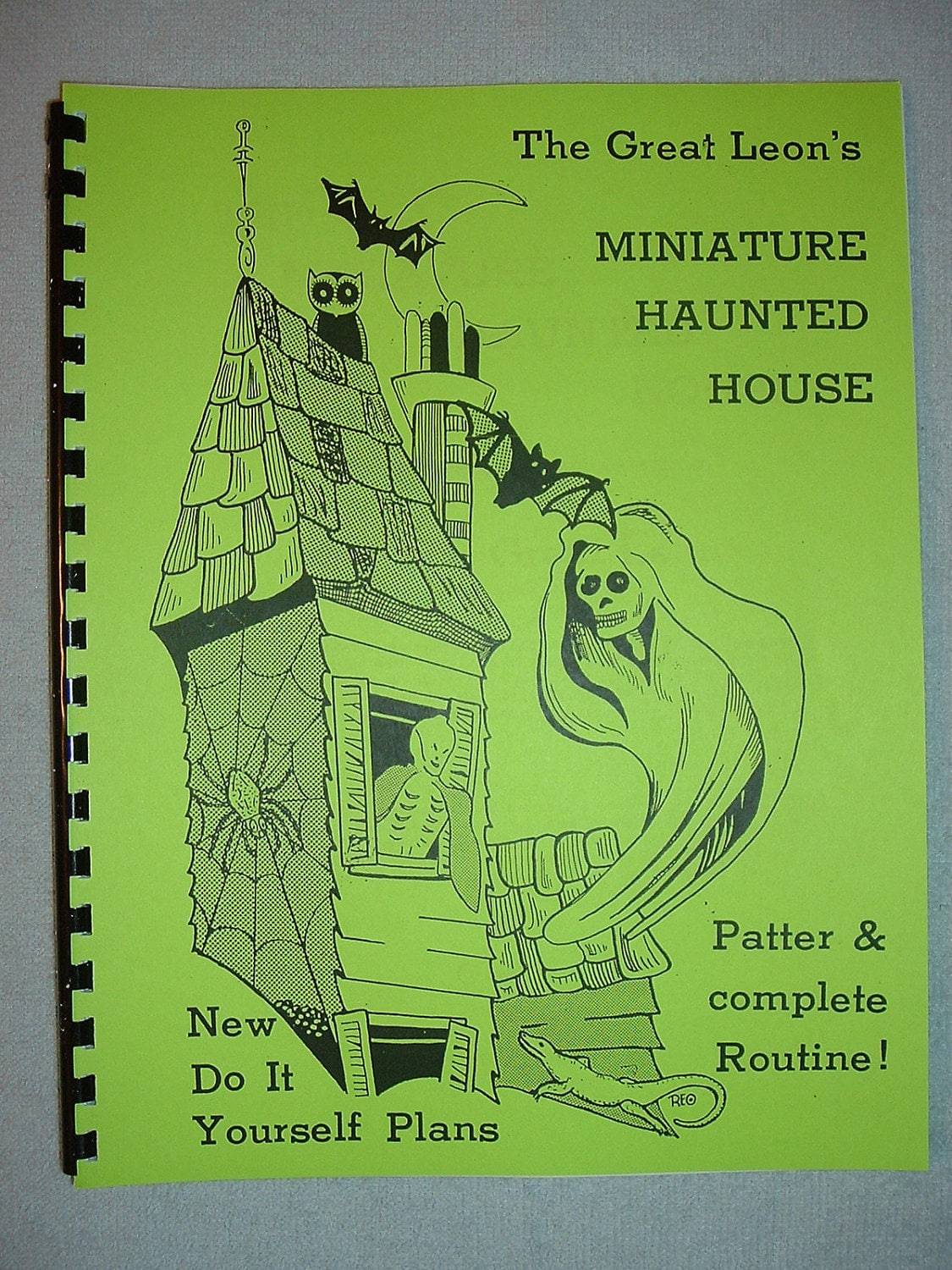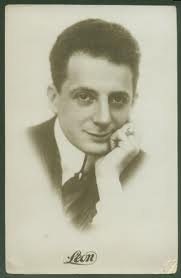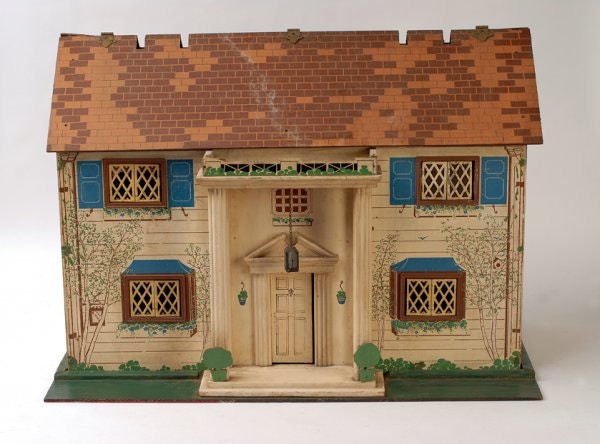 THIS IS THE FAMOUS LEON'S MINIATURE HAUNTED HOUSE DO IT YOURSELF PLANS. THIS IS A FANTASTIC AND FAMOUS MAGIC TRICK TO ASTOUND FRIENDS AND FAMILY. VERY HARD TO FIND.
This is not just a trick, but a complete act-a show in itself. In fully illustrated building plan form, with every detail of the many brilliant effects, patter, presentation, plus many photographs showing the "House" in action. Furnished in beautiful large sized pages, the book is spiral bound, 34 pages of text and large detailed Eugene Gloye drawings, all to make it simple to create your own "Haunted House." Act can run to 30 minutes. No assistants. Use anywhere; has been done before 7500 people. Sets up in a few minutes; work on any table; packs flat. Performer's hands are free; yet he operates the action with a single control. No sleight of hand. Anyone interested in magic can easily learn to do this routine. The patter theme is a ghost story, a female ghost looking for a lost love gets involved in magic. In full view, with apparently no human aid, doors and windows open and close, bells ring, milk vanishes, tables float, ropes are knotted, cut and restored? hammers rap, chain links join, bottles rise and fill glass with milk, a card trick is done, a slate is written upon, and finally the spirit is caught and materializes in a glass jar! Plus many other weird and wonderful happenings!! Nothing like Leon's Haunted House in magic today! A unique series of effects blended into one beautiful and sensational act."

THE PICTURES ABOVE SHOW THE HOUSE AS A FINISH PRODUCT. THIS UNIT SELLS ONLINE FOR OVER $700.00 Get this great booklet and build your own at a fraction of the price.
Payments
Payment can only be made through PayPal which then you can pay by Visa, Mastercard, American Express, Discover or an ECheck from you Bank account.
We also accept check or money order.
Shipping from United States
We ship mostly by parcel post or media mail within 2 to 3 business days. Please be understanding about shipping transit time- Rate us, not the Post Office transit time. Shipping: Depending on the service you select can take up to 14 days for delivery. We have no control over transit time.
Refunds
In order to offer you the best possible prices. "ALL SALES ARE FINAL." If for some reason you are not happy because of an error, please notify us of it and we will do our best to work it out with you. If you are unsure of anything your questions are always welcome, its better to be safe and ask. We get back to everyone quickly.
Additional
International Shipping: will be USPS International 1st Class Airmail. International shipping transit time is very UNPREDICTABLE regardless of what the USPS states or the transit time it has taken your other packages to arrive. Packages can get stuck in customs. We have seen packages take anywhere from 6 days, weeks even months to arrive. Some packages have taken up to 2 months (8 weeks) but eventually get to the destination. Paypal now only ask for proof of receipt for shipping international. We can provide that proof incase a package does get stuck. We have no control over transit time so please do not hold us accountable for transit time or packages stuck in customs. Know it's out of both of our control.