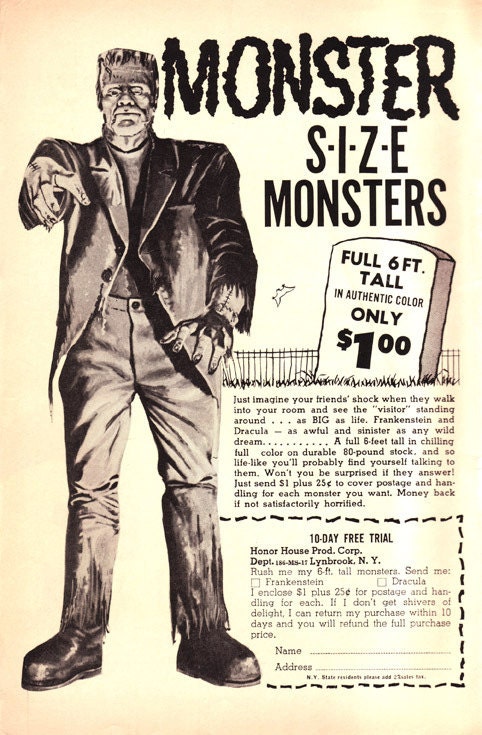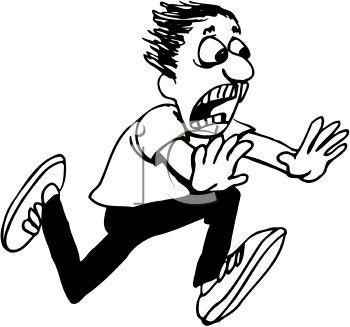 SCARY LIFE SIZE
MONSTER
OVER 6 FEET TALL
Just imagine your friends shock when they walk into your room and see the "Monster" reaching out bigger than life-Frankenstein, the original man-made monster, that terrorized the world. A giant 6 feet tall, his eyes glow eerily as his hand reaches out-as awful and sinister as the wildest nightmare. Yes - the Monster is 6 feet tall, on 44-pound stock, and so lifelike you'll probably find yourself talking to him. Won't you be surprised if he answers? Comes complete with glow in the dark eyes.
A great reproduction item from the 1970's. Only from the houseoftheunusual.com
Payments
Payment can only be made through PayPal which then you can pay by Visa, Mastercard, American Express, Discover or an ECheck from you Bank account.
We also accept check or money order.
Shipping from United States
We ship mostly by parcel post or media mail within 2 to 3 business days. Please be understanding about shipping transit time- Rate us, not the Post Office transit time. Shipping: Depending on the service you select can take up to 14 days for delivery. We have no control over transit time.
Refunds
In order to offer you the best possible prices. "ALL SALES ARE FINAL." If for some reason you are not happy because of an error, please notify us of it and we will do our best to work it out with you. If you are unsure of anything your questions are always welcome, its better to be safe and ask. We get back to everyone quickly.
Additional
International Shipping: will be USPS International 1st Class Airmail. International shipping transit time is very UNPREDICTABLE regardless of what the USPS states or the transit time it has taken your other packages to arrive. Packages can get stuck in customs. We have seen packages take anywhere from 6 days, weeks even months to arrive. Some packages have taken up to 2 months (8 weeks) but eventually get to the destination. Paypal now only ask for proof of receipt for shipping international. We can provide that proof incase a package does get stuck. We have no control over transit time so please do not hold us accountable for transit time or packages stuck in customs. Know it's out of both of our control.